Enjoy your yoga holiday in the beautiful Son Manera Retreat Finca in the heart of Mallorca. Start your day with yoga and afterwards you can enjoy the silence or explore the island. Inhale – Exhale – Just be.
During your yoga holiday in Mallorca you will have the opportunity to enjoy the silence of the Finca or you can relax at the pool or at one of the chill-out areas of the Finca. Moreover, you can take a walk to Montuiri, which is only a few minutes walk away, or you visit one of Mallorcas popular destinations.
Mallorca-Island of diversity
Orange-, olive- and almond trees, as far as you can see. Flocks of sheep which graze in the shadow of the trees. The colourful markets as well as the capital Palma with it's 400.000 inhabitants – Mallorca offers a lot for everyone's taste.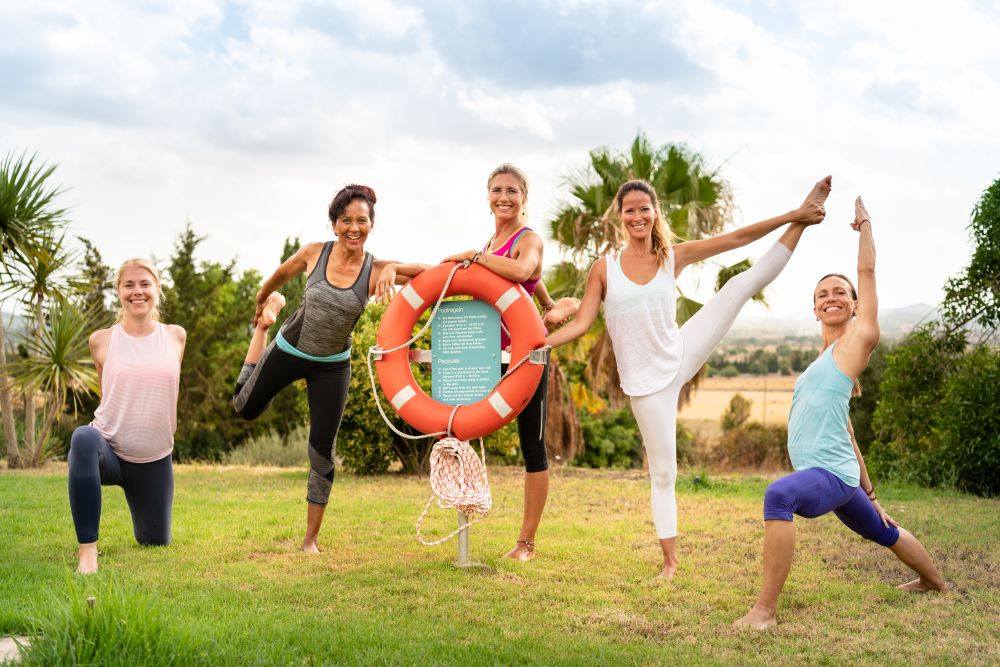 Benefits of yoga holiday in Mallorca
Yoga is a perfect way to tune into the day, to refresh your body, soul and spirit. The daily morning yoga class prepares you for a marvellous vacation day. Yoga has many benefits
it improves flexibility
stengthens muscle structure
has a positive impact on the immune system
supports a healthy lifestyle
improves concentration
is a perfect way to cultivate mindfulness
helps to release stress and strengthens the nervous system
Last but not least, it helps to find inner peace!
Try & Join!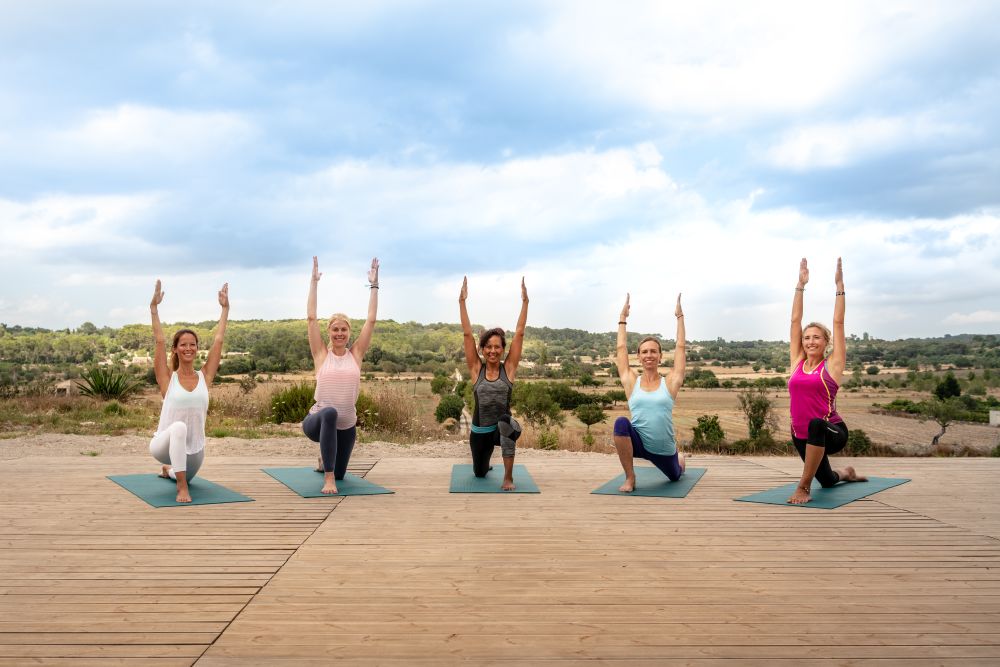 The Program
Two yoga classesa a day (before breakfast and in the late afternoon). No yoga on arrival/departure days.
From Sunday to Friday we start the day with yoga (approx. 1,5 hours). The classes take place either in the yoga-rooms or on one of our beautiful terraces. For beginners and advanced.
After the morning yoga class you enjoy a nice and long breakfast on our terrace with view over the countryside. The breakfast buffet includes a selection of fresh fruits, breads, a variety of cheese, homemade jams, porridge, yogurt, orange juice, coffee and a good selection of teas. For the late risers we offer breakfast until 11 am. At lunchtime we serve salad and soup. In between you have a lot of time for relaxing or exploring the island. The second yoga class in the late afternoon is a little less dynamic and includes meditative elements. You finish off the day with a delicios dinner buffet in the evening.
It is also possible to bring company with you who does not want to participate in the yoga program. Mallorca offers many possibilities for sport-acitivities, sightseeing or just for relaxing by the pool or beach.
Included services:
7 nights at the Son Manera Retreat Finca
vegetarian full board
fruits all day included
water and tea all day included
two yoga classes (1,5 hours) on 6 days (Sunday to Friday)
1 x beach shuttle per week (july and august 3 x)
free WIFI
saturday airport shuttles from airport Palma de Mallorca to Son Manera, departure 2 pm & 8 pm*
saturday airport shuttles from Son Manera to airport Palma de Mallorca, departure 7 am & 1 pm *
* times can be changed by one hour prior or later by the Finca
Prices 2023
€ 1250,- per person in the double room high season*
€ 1090,- per person in the double room low season**
Supplement small single room € 91,-
Supplement double room for single use € 210,-
Supplement terrace € 112,- per person
Supplement superior room € 112,- per person
Reduction extension week € 70,- per person
Reduction for accompanying person without yoga program € 100,- per person
*low season:
07.01.-03.03. & 05.11.-22.12.2023
*high season:
04.03.- 04.11.2023 & 23.12.-06.01.2024
The Spanish city tax of € 0,55 per person and night (01.11.-30.4.) or € 2,20 per person and night (1.5.-31.10.) will be collected onsite additionally to above mentioned rates.
More information about yoga holiday in Mallorca you can find HERE